Copyright © Assault Fitness LLC
Owner:

Jason Rulo CSCS, CISSN, HFS

- Over 18 years personal training experience working with fitness clients, as well as high school, collegiate and professional athletes. In addition, Mr. Rulo has had the opportunity to prepare many tactical athletes such as soldiers, police, and firefighters for their work activities. Jason has also completed 1 marathon, 10+ half marathons ,as well as numerous obstacle course races including the

World's Toughest Mudders from 2012-2017. as well as the Obstacle Racing World Championships in 2015-2017.Jason is also the inventor of the Neptune Thermoregulation System.

Trainer:

Tom Kelso MS, CSCS-

23 years experiences as collegiate strength and conditioning coach, 9 years programming for the St. Louis Police Academy and St. Louis Metro PD, and 10 years working as a personal trainer.

Trainer:

Kari Ward MS-

a St. Louis native who has several years experience as a sports performance coach and personal trainer. She is formerly a Graduate Assistant Strength and Conditioning Coach and Graduate level instructor at Lindenwood University.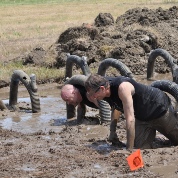 In exercise and in life, you get out what you put in. Our programs are effort-based so the harder you work the better your results. This also allows us to train clients/ athletes of varying level within the same. As they say in the Navy SEALs : "the only easy day was yesterday!"
Together Everyone Achieves More. Classes often times include team-building exercises to help build comradery and rapport between campers. Everyone pulls for everyone else in our classes so no matter the difficulty you are NEVER alone!
The sense of accomplishment achieved through blood, sweat, and tears is so much sweeter. The confidence this will bring to all areas of one's life make all the hard work worth while!
Success is a journey
not a destination!
Sponsors

Jason would like to thank the following companies for their sponsorships in all his racing endeavors.
www.korfit.com
(636) 724-8166
www.clubatchesterfield.com
info@chesterfieldathleticclub.com
(636) 532-9992
www.pinnaclepersonaltraining.com
(636) 578-6922
www.perfchiro.com
(636) 536-3622
www.zealforlife.com
(314) 569-3005